Last Updated on September 13, 2022
Have you ever wondered what the Best Soil for Daylilies is? Well, look no further because this blog post will give you all the information you need. Daylilies (Hemercocallis), are the perfect plants for any garden because they are annuals that can survive in almost any weather condition.
Every year your garden will be filled with a variety of big, bright flowers if they are grown in the correct environment. With so many varieties of Daylilies to choose from, you will be spoilt for choice. Varieties of Daylilies include the 'Little grapette' which has small purple flowers or the 'Ruby spider' which boasts the colors red and gold.
Some of the greatest perks of growing these flowers are that they don't require as much care as you would think. Another advantage is that they are effortless to grow and with a good combination of Daylilies you can have a fully bloomed garden up until a frosty winter.
Things To Consider Before Planting Daylilies
Some of the things to consider before planting Daylilies would be knowing what the best soil for Daylilies is and the perfect season for planting them. Daylilies require soil that is fertile and rich in nutrients. This will ensure that it survives in most weather conditions, with very little maintenance.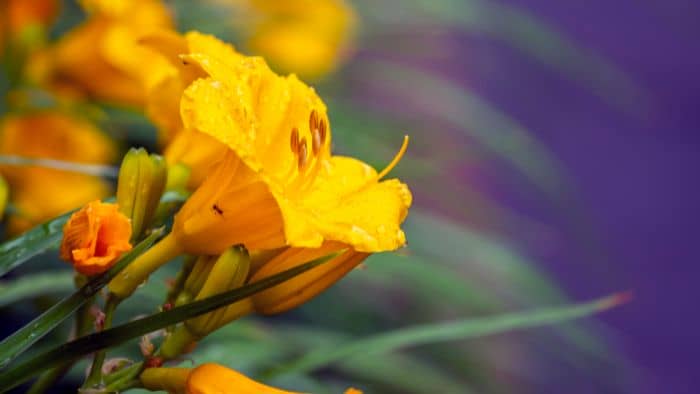 The soil needs to be well-drained as this guarantees that Daylilies have the perfect amount of water to last all season long. The position of a Daylily is very important! When looking at the perfect place to plant them in your garden, try to find a spot with enough sunlight during the day but some cool shade in the afternoon.
Depending on what variety you're growing, most of these flowers can tolerate frost and temperatures that go into the negatives. When Summer comes again the Daylilies will bloom if they are given water and liquid fertilizer often. Adding a mix of Tulips or Daffodils to your Daylilies will also enhance the beauty of your garden.
What Is The Best Soil For Daylilies
When considering what the best soil for Daylilies is, you first have to know what variety of the plant you're growing. Their ability to adapt to different climates means they can survive in multiple kinds of soil.
Despite the fact that Daylilies are very flexible when it comes to soil, if you want your plant to thrive, you will need rich organic soil that's slightly damp, and provides good drainage and airflow. Therefore, a mixture of native and garden soil is recommended.
Also, brands like Miracle-Gro go well in any environment and won't just help your plants grow well, but will also enhance the rest of your garden. When looking at the best soil for Daylilies you also have to consider that they prefer soil with a PH of between 6.1 and 6.5 which is acidic.
This type of soil is also rich in nutrients which is great for your plants to thrive. Like Humans, Daylilies require good food in order to thrive. Additionally, early Spring and mid summer are the perfect times to feed your plants with liquid fertilizer. Without this important step, your Daylilies may not rebloom well.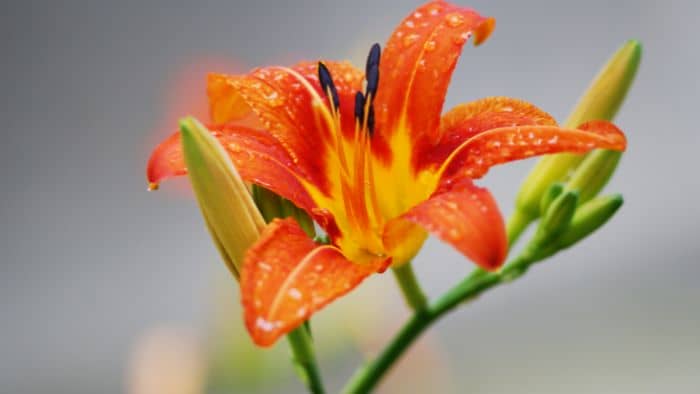 Tips To Plant Daylilies
Planting Daylilies is extremely easy! In just a few simple steps you will have some beautiful additions to your garden. Here are some tips to follow when planting them.
Tips:
Planting Season – The best time to plant Daylilies is in late winter or early Spring.
Position in the garden – Avoid heavily shaded areas and rather find a sunny spot to grow your plant. A recommended 6 to 8 hours for daily sunlight is best.
Planting – Plant the Daylilies by firstly making a large hole in the ground. This is to ensure that the roots of your plant have enough space. Cover the roots and lightly press the soil down.
Soil – Using fertile soil with organic matter added to the mix is best for these plants.
Watering – Finally, add water until the soil is drenched. Daylillies like damp soil as they grow their best when fed enough water. You should water them daily if you live in an area with high humidity levels. However, if your region is cooler, then watering every two to three days is perfect.
Here is a video to watch on the different types of Daylilies that exist:
Daylilies Plant Care Tips
If you are thinking of harvesting your plants once they are grown, consider that the best time to cut them (with the proper tools, like garden scissors) is when they are mature. This will also encourage your plant to produce more blooms.
Here are some additional plant care tips for you to keep in mind:
Only add fertilizer to the soil if the soil is not already fertile.
Give your Daylilies around 3cm of water every week. To limit the number of weeds around your plants, you should add some mulch.
You can also separate them in order to start new Daylily plants.
Remove any dead parts of the plant to encourage more growth.
Remember that 6 to 8 hours of sunlight per day will help them reach their full potential.
Don't disturb your plants during the dormant season. They are annuals that produce beautiful blooms during their flowering season especially when they have had time to rest.
Conclusion
Due to the varieties of Daylilies that exist, it is guaranteed that any combination of them will lead to a lavish-looking garden. However, in order to keep your garden looking fresh and healthy, it is suggested that you separate your plants at least every 3 years. Also, using the best soil will afford you a thriving garden year after year.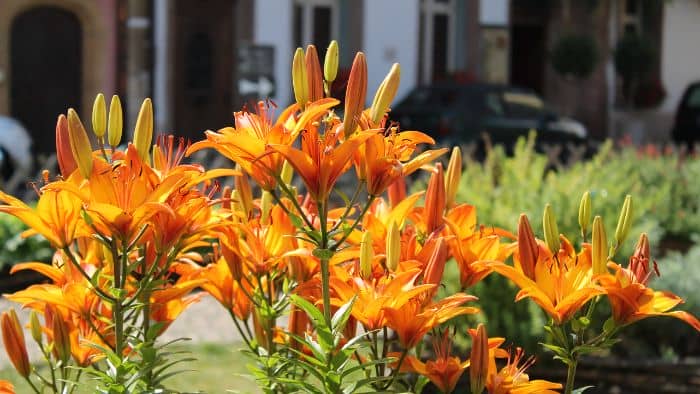 Daylilies are special because single flowers survive for only one day. But don't worry, the stems of Daylilies can grow very tall and can hold up to 15 flower buds at a time. So, you will always have a constant flow of flowers to brighten your day as these plants bloom for at least six weeks.
With very little care necessary, Daylilies are perfect for those who have busy lifestyles but still want a beautiful garden. By following the tips in this article, you too can have an effortless, colorful garden of flowers to enhance your landscape.
For more information on these interesting plants have a look at this additional link.
FAQs
What is the best fertilizer for daylilies?
The best fertilizer for Daylilies is an organic fertilizer like Miracle-Gro as it is the preferred choice for most gardeners.
Do daylilies need acidic soil?
Yes, Daylilies need slightly acidic soil that has a PH of between 6.1 to 6.5. This type of soil is rich in organic matter which helps them grow their best.
How can I make my daylilies bloom more?
You can make your Daylilies bloom more by separating and replanting them. Also, using a good liquid fertilizer will help them bloom better.
Is Miracle Grow good for daylilies?
Yes, Miracle Grow is an excellent option for Daylilies as it is organic plant food.