Last Updated on June 29, 2022
This article will teach you about the Best Soil Mix for Microgreens and how to use them. We have included information on planting seedlings, keeping the soil moist, and other tips and tricks on growing healthy plants.
Seeds are the main ingredient in growing microgreens, and they grow fast and add a lot of nutrition to your diet. There are several different types of soil mixes that can be used to grow seedlings. However, growing them in the best soil will ensure that they get sufficient nutrients to grow healthily.
We wrote this post because we wanted to share some information with other gardeners about how to grow healthy microgreens. With this best soil mix for microgreens, you can grow them within a week in 3-inch pots. Take a look at the information below to learn more!
What To Consider Before Planting Microgreens?
When it comes to growing microgreens, there are a few things that you need to take into consideration to help them thrive. Have a look at the information below to get an idea of what these plants need.
1. Light  – Light is the key to healthy plants, and this applies to microgreens too. They need lots of light, and if you don't have a large outdoor space in which to grow them, you can use grow lights for indoor planting. 
2. Water – You would have to water regularly to ensure that the plants stay healthy. Don't let them get too dry or they'll wilt.
3. Soil mix – When growing these plants, garden soil is not recommended as it does not contain the nutrient content that the microgreens need. For this reason, using the best soil mix for microgreens is vital. 
4. You can grow microgreens in an indoor garden, greenhouse, or outdoor garden.
5. You can start them with seeds or cuttings.
6. The best time to start microgreens indoors is at the end of winter or early spring.
What Is The Best Soil Mix For Microgreens?
There are a few factors that will influence how well a soil mix works for your microgreens. The first factor is the number of nutrients in the soil; the more nutrients, the better. The second factor is how acidic or alkaline the soil is. The higher the pH, the easier it is for the roots to absorb nutrients from the soil.
The third factor is water retention. Water retention will depend on the amount of organic matter in the soil, and how well it drains. Additionally, there is air permeability which will depend on how much organic matter is in the soil and the depth of the soil.
The best soil mix for microgreens is Sunlight Soil. The soil mix is perfect for indoor and outdoor planting and ensures that your microgreens thrive. It is packed with all the elements to grow healthy plants as it is a rich organic mix. Here is a video to learn more about this soil mix.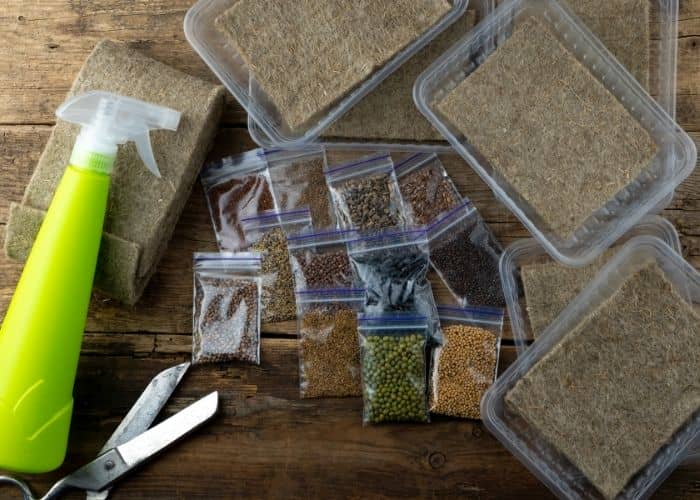 How To Plant Microgreen Seedlings?
There are several techniques for planting microgreen seedlings. They are easy to grow, they're super tasty, and they can even be used as garnishes for your favorite dishes. However, planting them can be tricky as you need to use the best soil mix for microgreens in order for them to thrive.
I'm going to show you how to plant these babies and make sure they grow in record time. To start growing microgreens, buy small containers with holes at your local nursery or garden center. You will need at least four containers when planting. Fill each container with the best soil for microgreens, as mentioned above, or you can opt for a mix of peat moss and vermiculite.
Thereafter, add a handful of seeds to the pot. Moisten the seeds with a little water and cover them completely with a thin layer of soil. Put the containers in a sunny spot and watch your plants sprout in no time. Growing your own microgreens is a great way to add more vegetables to your diet. Remember, you can plant them in containers, raised beds, or even indoor gardens.
What Are The Benefits Of Growing Microgreens?
Microgreens are small sprouting plants that are used as an ingredient in salads and other dishes. They are known for their rich, earthy flavors and crunchy texture. There are many benefits to growing your own microgreens.
When they're planted in the best soil mix for microgreens, these sprouts grow all year healthily through. Have a look at the benefits of planting them below.
Benefits:
They are low in calories and fat.
They are high in protein.
They are a great source of vitamins, minerals, antioxidants, and fiber.
You can start growing them with as little as 10 seeds in your own kitchen.
Growing your own vegetables can help save money.
You'll have fresh and nutritious food daily.
They can be grown in containers on your windowsill or patio.
They are inexpensive to grow.
Conclusion
In today's world, where time and resources are limited, there is a growing demand for sustainable foods and food alternatives. One such food alternative is microgreens which are sprouts of fresh herbs, leafy greens, vegetables, and even flowers. In a recent study, it was found that eating a daily serving of raw microgreens can provide many health benefits. 
There are many factors involved in growing microgreens, and one of the biggest ones is soil. Soil quality is the most important aspect when it comes to growing healthy plants. That's because they thrive off of the nutrients found in the soil. Therefore, it is essential that you use the best soil mix for microgreens when you're planting them.
Also, remember that in order for the soil to support healthy microgreens, it needs to have good drainage and be rich in nitrogen, phosphorous, potassium, calcium, magnesium, and iron. Aside from using the best soil mix for microgreens, another way to make your soil ideal for growing them is to mix a combination of peat and vermiculite. Click on this link to learn more about growing microgreens. 
What kind of soil require to grow micro?
The kind of soil that is required to grow micro needs to have high alkalinity and be free from sand. It should also be rich in nutrients with a high amount of organic matter.
What ProMix is best for microgreens?
The best ProMix for microgreens should be nutrient-rich and contain both macro and micronutrients. ProMix is a hydroponic medium with peat moss and vermiculite for the roots. This is a high-quality product for the beginner or for someone who wants to grow some vegetables in their home.
How deep should soil be for microgreens?
The depth of the soil for microgreens should be 6-8 inches in order for them to grow.
What is the best medium for growing microgreens?
The best medium for growing microgreens should have good air circulation and water retention properties. You can grow them in pots, trays, or buckets that have drainage holes.
Learn more about Do Oak Trees Make The Soil Acidic – A Guide On Hardy Trees And Their Contributions To Your Garden