Last Updated on December 20, 2022
Shrubs can make wonderful plants to grow for landscaping your yard. If you live in a wet climate, then you will want to know the best shrubs for wet soil. Fortunately, there are many beautiful shrubs that can thrive in wet conditions.
Not only are these shrubs great to grow in climates with lots of rain, but they are also great to grow alongside ponds and creekbeds. Unlike other plants that may struggle in wet conditions, these shrubs will thrive. They will make beautiful additions to your yard and are also relatively easy to maintain.
What Are Shrubs?
A shrub is a woody perennial plant that can be small to medium in size. They can be deciduous or evergreen and unlike trees, they are smaller and have multiple stems.
Shrubs are typically six to 10 meters in height or shorter and come in many different varieties. They can vary in size, shape, appearance, and color. Shrubs can be found all throughout the world and are popular for use in landscaping.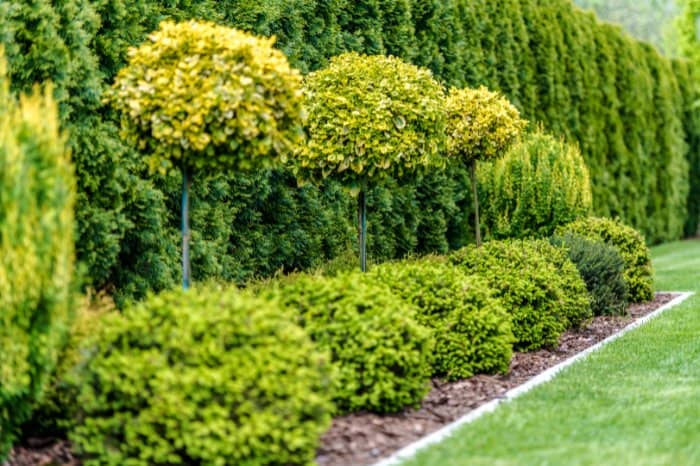 Read more about:
What Do Shrubs Look Like?
Shrubs can vary in appearance depending on the type of shrub. They are woody plants with several stems that can grow to be as tall as six to 10 meters in height. They are smaller than trees and tend to have a more rounded appearance.
Shrubs often have green leaves and can produce flowers in a variety of different colors. Shrubs can be used to provide more privacy for homes and create a beautiful landscaping piece.
Best Shrubs For Wet Soil
If you live in an area with wet soil you are in luck as there are many varieties of shrubs that do in wet soil. These shrubs can grow in wet conditions that other plants may struggle to survive in. In addition, these shrubs will make a beautiful addition to your yard.
There are plenty of shrubs that like shade and wet soil and plenty that prefer full sun. These shrubs are great for growing along ponds, rivers, swamps, bogs, and other wet areas.
American Cranberry Bush
The American cranberry bush is an attractive shrub that produces showy white flowers and beautiful red berries that are edible. The berries are a great source of food for local birds and wildlife.
During the fall, the foliage of the shrub turns beautiful shades of yellow, red, orange, or burgundy. They prefer to grow in moist, well-draining soil and like to be in partial shade to full sun. At maturity, they can grow to be eight to 12 feet tall and be equally wide.
Pink Azalea – Best Shrubs For Wet Soil
The pink azalea is a beautiful shrub that thrives in moist woods, swamp margins, and open areas. It is dense and shrubby, typically growing to be only six to 15 feet tall.
It has beautiful pink or white funnel-shaped flowers that are fragrant. It grows best in full sun to dappled sun and likes moist to wet soil. The pink azalea is great for attracting hummingbirds and butterflies.
American Elder
The American elder is a fast-growing shrub with yellowish-white, star-shaped flowers. It produces purple elderberries which are great for jams, jellies, pies, cocktails, and wines.
It can grow to be five to 12 feet tall and equally wide. The American elder grows well in moist soil of different textures and does best in full sun to partial shade.
Red Elderberry Seeds (Sambucus racemosa) 50+ Seeds in FROZEN SEED CAPSULES
Highbush Blueberry
The highbush blueberry produces delicious blueberries that you can eat. It is native to eastern coastal regions of North America and can grow to be six to 12 feet tall.
Highbush blueberry plants are acid-loving plants that are adapted to living in moist habitats such as bogs and heaths. They do best in full sun and typically produce fruit from mid-July to mid-August.
Winterberry
The winterberry is a shrub known for its colorful red fruit. It can grow anywhere from three to 15 feet tall and produces white flowers in early to mid-summer.
The winterberry plant grows well in acidic soils in forested wetlands and along the edges of ponds, lakes, and marshes. It does best in partial to full sun and while wildlife may enjoy the fruit, it is not safe for pets or humans.
Redosier Dogwood – Best Shrubs For Wet Soil
The redosier dogwood is hardy and versatile, making it popular among homeowners, gardeners, and landscapers. It has vibrant red stems that stand out in the dullness of winter.
The redosier dogwood prefers moist soils and often grows in wet swamp lands. It does best in full to partial sun and grows attractive clusters of white flowers in mid to late spring.
Check Out The Best Soil For Ficus Bonsai: 4 Great Options
Summersweet
The summersweet shrub typically grows to be four to eight feet tall. It is popular for landscaping thanks to its attractive fragrant white flowers that attract hummingbirds and butterflies.
These shrubs will grow in full sun to partial shade and prefer moist soil. They are commonly used for streambank erosion control.
Sweetshrub
The sweetshrub is noted for its sweet, fruity fragrant flowers. They can grow to be three to nine feet tall and six to 12 feet wide.
Sweetshrub grows well in full sun to partial shade and in a deep, moist, loamy soil. They have large leaves and dark, reddish-brown to wine-red flowers.
Inkberry Bush – Best Shrubs For Wet Soil
The inkberry bush produces dark fruit and greenish-white flowers. They can grow to be five to 10 feet tall and five to eight feet wide.
Since the inkberry bush loves soil so much it is a popular choice for growing along bogs and ponds. If you are looking for shrubs that like wet soil and full sun, this is a great option as it thrives in full sun though it can grow in partial shade.
Best Shrubs For Wet Soil: 9 Great Options
There are plenty of great shrubs that like wet soil, making them great additions to your yard where other plants may not do well. These shrubs come in many different shapes and sizes to meet your landscaping needs.
Do you have any questions regarding the best shrubs for wet soil? If so, please ask any questions regarding growing shrubs in wet soil in the comments.