Last Updated on August 24, 2022
In this blog post, we discuss the best ornamental grasses for wet soil. Before we get into detail, here is a brief introduction to ornamental grasses.
Ornamental grasses are a great way to enhance the appearance of your garden. And why not as they're an eye-catching addition to any yard or walkway! A lot of homeowners prefer them because of their adaptability, hardiness, simplicity of maintenance, and striking appearance.
You shouldn't have any trouble locating an ornamental plant that meets your needs and requirements if you know what to look for. Also, if you are new to gardening, worry not. In this article, we will enlighten you about these attractive plants.
In fact, we have compiled our top choices in this indispensable guide! To find inspiration, keep reading.
What Are Ornamental Grasses?
Ornamental grasses include both actual types of grass and plants that resemble them. These include sedges, which are used for similar purposes in gardens. The majority of ornamental grasses are perennials, lasting two years or longer.
However, because of their natural growth habits or the fact that they are not hardy in certain climates, some of these plants only have one growing season. This means that they are annuals.
Some are amongst the best ornamental grasses for wet soil, whereas others thrive more in drier conditions. Therefore they either clump together or spread out in their growth patterns according to the environment they are planted in. The ones that spread easily fan out either above-or below-ground stems.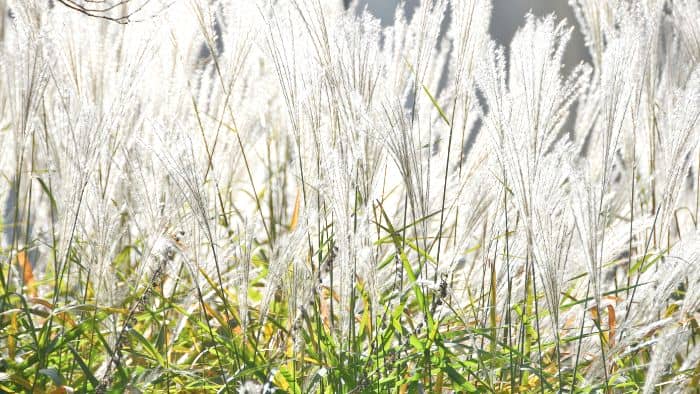 Different Types of Ornamental Grasses
When talking about ornamental grasses, reeds, sedges and rushes are the main families that are included. Despite the initial assumption that they are similar, they each grow and spread differently and have specific needs for survival.
Some will emerge as the best ornamental grasses for wet soil, as you will discover below.
1. Reed Grass
– Feather reed ornamental grasses make excellent plants for adding vertical interest. These classy garden additions are easy to maintain and offer year-round interest. The majority of ornamental reed grasses only require minor maintenance a few times per year. Try this perennial for the best results in the garden and the least disruption to your yardwork tasks.
– This grass type also requires minimal special care and has very flexible site needs. Reeds can thrive in dry or wet environments with full or partial sun. Although the plant can tolerate dry, poor soil, the best location will have rich, wet soil. Additionally, ornamental reed grasses can also grow well in dense clay soils.
2. Rush Grass
– Rushes prefer the margins of bogs, low, moist areas, and ponds. They thrive in wet soils and can grow steadily in various water conditions.
– They are useful for rain gardens, bioretention, and other features where water conditions are erratic because they can withstand brief dry spells.
– They add style to contemporary landscapes and cutting-edge buildings as an architectural component.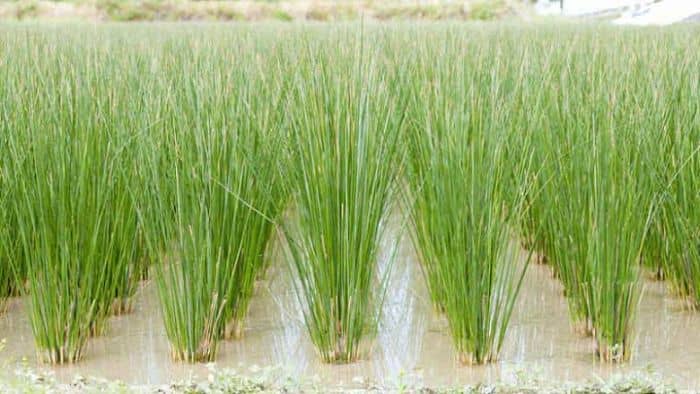 3. Sedge Grass
– Sedges resemble grass in appearance, but unlike the majority of ornamental grasses, many thrive in the shade just as well as in the sun. They can thus fill a valuable design void for that reason.
– Sedges are primarily grown for their bladelike foliage, which comes in shades of green, bluish green, yellow, and copper and can be as thin as strands or thick as straps. They usually grow between a few inches and three feet tall.
– Before the dense foliage grows in spring, they are typically soft spikes in tan or green hues. Some flowers wither and turn into lovely, billowing tawny seed heads. Most sedges grow in tufts, but some produce runners or rhizomes that give them an open or barely spreading habit.
What Are The Best Ornamental Grasses For Wet Soil?
With their waving plumes bobbing above their mounds of grassy foliage, water-loving ornamental grasses create a peaceful landscape.
Prairie Cordgrass, Indian Grass, Northern Sea Oats, Big Blue Stem, Switch Grass, Blue Joint Reed Grass, and Blue Love Grass are some of the best ornamental grasses for wet soil. These grass types can flourish and naturally grow on lakeshores, riverbanks, water gardens, and flooded plains as they thrive in wet soil.
When growing them in wet soils, soil moisture is not the only factor to take into account. Take into consideration the type of grass, lighting, and temperature tolerance as these are important factors to maintain their lusciousness.
Also, grasses like Cordgrass, Northern Sea Oats, and Switchgrass flourish in wet, warm environments. When the soil is warm and the temperatures are high, they thrive. Have a look at the 10 perennial grasses in this informative video. 
What Are The Advantages And Disadvantages Of Wet Soil?
The most wet type of soil is clay. Clay soils are nutrient-rich and hence are favoured when growing the best ornamental grasses for wet soil. The nutrients are stored much longer in this type of soil and are less likely to leach away. See more advantages and disadvantages of wet soil below.
(i) Advantages of wet soil
Wet soils are nutrient-dense; therefore, plants recieve the required nutrients to stay healthy and lush.
Wet soil is excellent for growing plants that require a lot of water as it helps them maintain their stance.
These soil types have a high pH level which makes them alkaline. This is good for growing most plants.
(ii) Disadvantages of wet soil
It is slow to drain as it holds onto water and therefore may cause root rot in some plants.
Warms up slowly
Easy to compact
Conclusion
Ornamental grasses can quickly improve the appearance of your garden and landscape. You can enjoy an exceptional eye-catching blanket of grass even if you live in a soggy and muddy region. This is because most of these grass types crave wet conditions to grow their best.
If you've read our guide, you now know what to look for, so you shouldn't have any trouble finding an ornamental plant that satisfies your needs and requirements.
A lush landscape would depend on how well you maintain your plants. Growing them in conditions that they thrive in will afford you a beautiful garden year through! Click on the link to learn more about these fantastic grasses.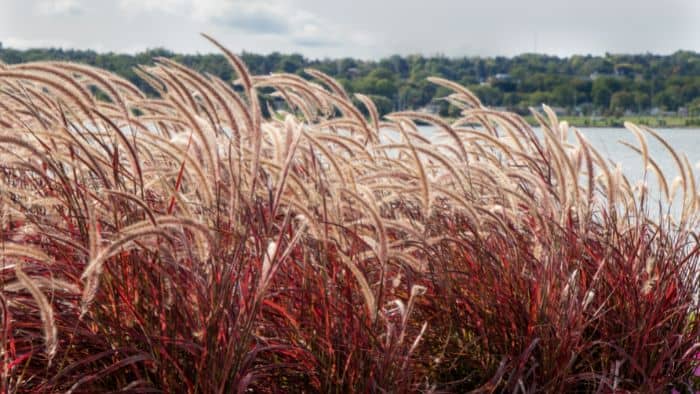 FAQs
Do ornamental grasses do well in wet soil?
Yes, ornamental grasses do well in wet soil. However, although some thrive in these conditions, others do not. Good examples that grow well in wet soil include Cool-season grass, Canada bluejoint, and Variegated river oats.
What is the easiest ornamental grass to grow?
Pink Muhly is one of the easiest ornamental grasses to grow. This tall plant creates an intriguing display, especially toward the end of the summer, and grows to a height of about three feet. Its deep green leaves produce soft pink flowers with fuzzy appearances as the season comes to an end.
When should ornamental grasses be planted?
Both spring and fall are suitable planting times for ornamental grasses. The benefit of planting in the spring is that it gives the plants enough time to establish a strong root system before winter. Without some additional safeguards, fall planting is frequently less dependable, especially in years with early or harsh winters.
What is the most beautiful ornamental grass?
With its brushy flowers that appear in the fall, fountain grass is the most beautiful as it creates an attractive focal point. By its eye-catching look, you can see why it's considered the most beautiful ornamental grass. Other varieties, like Desert Plains are perennial, whereas others, like Rubrum, are considered annuals. Most fountain grass varieties grow to a height of 3 to 4 feet, making them ideal for mixed borders or establishing privacy.